Proper Pool Care During The Fall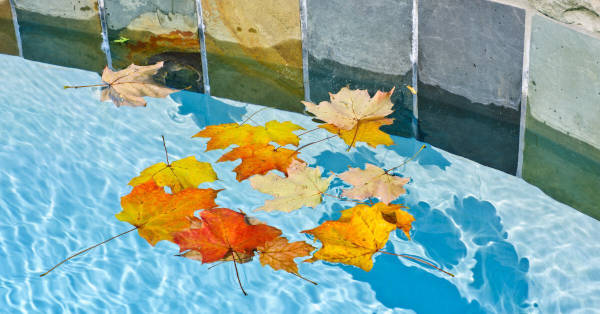 Pumpkin spice season has arrived, or has it? It seems like the cooler autumn season has all but forgotten the state of Texas. The last week of September is technically the start of fall. However, if your idea of autumn involves bonfires, chilly Friday night football games, or Jack Frost nipping at your nose, think again. Although this autumn still feels like a Texas summer, we can take advantage of the great outdoors. Yet, let's not forget to maintain proper pool care and lawn services to keep our outdoor living beautiful and enjoyable.
Getting In the Extra Pool Time & Pool Care
According to Climate Central, Greater Houston temperatures have been steadily rising in the fall from 1970 to the present. We have experienced 21 more above average warm fall days in the past half-century; however, this is nothing new. The continuation of higher temperatures into the fall months means prolonged seasons for pests such as fleas, ticks, and mosquitoes. On the bright side though, we get some extra pool time.
Having a swimming pool in Texas during autumn can be very different than what pool owners in the North experience. Many Texans use their pool year-round. A neglected pool, however, with green algae water, becomes a breeding ground for mosquitos looking to lay eggs. If you do not upkeep your pool in the off-season it can be unsightly as well as hazardous to your health. Without proper pool care and upkeep, even in the Fall, homeowners could still invite many unwanted pool pests.
Fortunately, the Fall season in Texas can still be a great time to host a pool party or continue your daily laps. On the other hand, if your pool is not maintained properly, it can ruin your fun. Below, are some pool care and maintenance tips from the professionals at One Source Residential Services, Inc.
Remove Leaves and Debris Regularly
Fall makes its presence known with colorful falling leaves; and unfortunately, many will find their way into your pool. Rather than waiting for the weekend to get the skimmer out allowing bacteria to grow, remove the debris every few days. Decaying leaves and debris can also eat up your chlorine. The good news is that lower water levels and cooler air temperatures mean the need for fewer chemicals.
However, if skimming frequently is a matter of having the time to do so, consider investing in a skimmer basket. This will collect all of the debris from your pool so you won't have to. However, remember to clean out the skimmer basket each week.
Don't Forget to Remove the Pine Needles
In Houston, if you have pine trees near your pool, the debris problem is magnified as pine needles frequently fall to the ground. Pine needles can blanket your yard like brownish-red carpet. Keeping swimming pools clear and free from debris in an environment with pine trees requires regular attention. Make sure to trim any overgrown branches, or remove any limbs that shadow over the water. This will help eliminate some of the pine needle accumulation, as well as avoid possible hazards.
Using a pool skimmer to scoop pine needles floating on the surface should be part of regular maintenance. A properly maintained filter can also collect needles as they circulate through the water.
Clean the Filters
The dirt and debris you miss when you skim the water with the net will find their way to the filters. If you don't clean the water regularly, you will need to clean the filter more often than normal. If you wait too long, it could cost you additional time and money. Yet, to prevent having to replace broken filters, drain your pool and clean them out every 4 to 6 months. This will prevent your filter from clogging, along with regular weekly emptying.
When Professional Pool Care Is Needed
As a busy homeowner, do you really have time to clean your pool as frequently as needed in any season? That is where professional pool cleaners can help. Take advantage of the Indian summer season with refreshing dips in your pool without the worry of dirt and debris.
The experts at One Source Residential Services have over 18 years of experience in pool care. Our fully licensed technicians will keep your pool sparkling year-round. In addition to maintenance and cleaning, we're also capable of handling complete pool renovations. Contact us today to find out how we can keep you afloat even in the dog days of Fall!