Texas Winter Pool Care & Swimming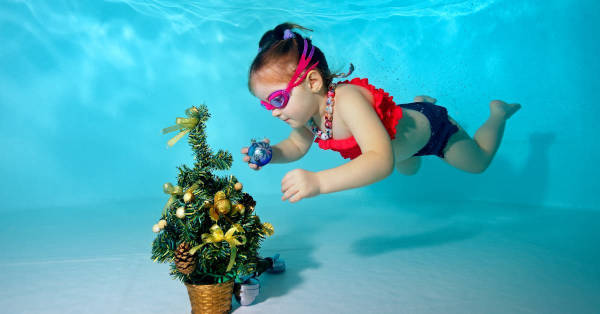 As any responsible pool owner will tell you, pool care does not end with summer – It's a year-round job. Fortunately, in Texas, the weather remains snow-free, so the maintenance your pool requires isn't as extensive, and it can remain open the entire year. Here's a short guide to warm winter maintenance and swimming for Texas homeowners.
Algaecide Your Water
Sometimes even a Texas winter can experience warm and humid weather. Unfortunately, this makes it easy for algae to build up and start infesting your pool. To prevent their growth, add a long-lasting algaecide agent to your pool and run the pump for a whole day. This will ensure its proper circulation if you decide to close your pool for the winter.  Yet, for most of us SE Texans, we don't close our pools, so with weekly cleaning, the algae will stay at bay.
Check the Chemistry During Pool Care
The pH of the pool must remain balanced in the winter. This will help prevent the growth of algae and bacteria, as well as prevent the risk of corrosion. Use a pool ph kit to ensure that the calcium, pH, and chlorination are at the right level. Lastly, feel free to make the needed adjustments if it isn't the case.
Protect the Pool from Frost
While the weather in Texas generally isn't at freezing temperatures, cold snaps are always an unpredictable danger. If you're keeping the pool open in winter, avoid potential damage to your pool pumps and motors by having professionals install a Freeze guard switch.
Maintain Weekly Routine Pool Care
Most Texas homeowners will stick to a routine when it comes to the clean-up of their pool, equipment, and fixtures. Although winter weather can be unpredictable, regular pool care maintenance is similar to fall care and will ensure that you avoid running into emergencies or problems.
When it comes to winter swimming, it's also important to continue maintaining pool care to ensure safety. Likewise, winter swimmers should continue practicing the same safety measures as with any other season. Most homeowners know the importance of ensuring that the pool is at the appropriate and safe temperature for swimming.
One Source Residential Services is Just a Call Away
Overall, if you don't have time to maintain proper pool care and maintenance, or if you're out for a week or more, consider hiring a professional. Here at One Source, we can remove the hassle of maintaining your pool year-round by providing convenient professional upkeep. Give us a call at 281-363-4663. You can also connect with us online, just ask One Source!
As always, One Source Residential Services would like to wish you a Safe & Happy Holiday Season!