May Flowering Perennials and Texas Landscaping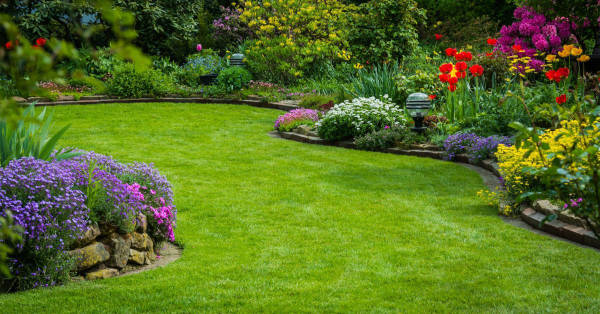 Well, Houstonians, in case you didn't know it, the summer heat is starting to return again in Southeast Texas. And just like we replenish and tend to our bodies in the heat, we must also do the same when tending to our lawn and landscaping. Fortunately, Texans can relish in a bounty of colorful May perennials, whether we enjoy entertaining outdoors, or just driving up to our beautiful property.
May is the month when the weather starts exposing plants and flowers to direct sunlight. However, big issues can arise if we're not taking proper care of them.  Below, One Source Residential Services shares some important landscaping tips to help you care for your lawn. But before we discuss tips, take a look at a few popular May-flowering perennials that can add more color to your lawn.
May Flowering Perennials
Acanthus
Acanthus is also referred to as bear's breeches and they produce glossy leaves topped with purple and white flowers. They grow well in dappled shade and are great for people who want to add vibrant colors to their garden.
Delphiniums
These colorful and elegant perennials will enhance the appeal of your lawn. But, you need to care for them if you want them to look at their best.
Aquilegias
Some aquilegias will end their display in May while others will begin to flower in May. For example, the 'Chocolate Soldier flowers from May to July, whereas it is March to May for the 'Texas Yellow'.
Helpful Landscaping Tips
Water Your Plants
Since mercury rises significantly in Southeast Texas during summer, starting from May, you need to water your plants, flowers, and trees more frequently. Install a sprinkler system to ensure that your plants get plenty of water.
Mow Properly
You might want to mow your lawn very short as it allows you more time between mowing. But, this practice isn't best for your lawn. In the scorching heat of summer, mowing your lawn extremely short will cause the grass in your lawn to dry. Therefore, during summer, keep the grass higher to prevent it from drying.
Pay Extra Attention to Pests
Summer is the favorite season for pests and they will be eager to eat away your plants, trees, and flowers. So pay extra attention to pests as soon as the temperature starts to rise to ensure that they don't kill off your plants and flowers.
Feed and Fertilize
Fertilizing is one of the most important things you need to do to maintain your landscape. However, misapplying or over-fertilizing can have dire effects on your garden as the fertilizer contains nitrogen which can burn the grass. To prevent damage to your lawn, use a slow-release fertilizer that contains a mild amount of nitrogen.
The most important tip for people who want to enjoy the beauty of their lawn without taking the time out to maintain it is to hire a professional landscaping service. You can save both time and money by working with a professional lawn care provider like One Source.
Connect with One Source Residential Services
We've provided you with a list of some May-flowering perennials and also discussed a number of tips that can help you maintain a healthy, vibrant lawn. As you prepare to enjoy the summer months and the Holiday fun it brings, feel free to utilize these tips and make your outdoor living space that much more enjoyable!
However, if you don't have the time or "green thumb" to lend to proper landscaping care, contact One Source today! Simply call 281-363-4663 for more information, or to schedule an assessment.