Consider Expert Landscaping Services for Fall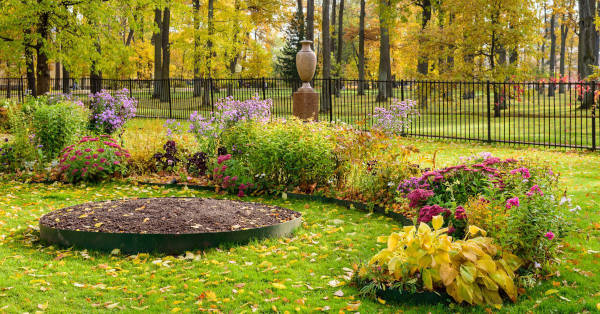 They say everything's big in Texas – big cars, big homes, and yes, big yards and private landscapes. But, of course, bigger yards and personal space also mean bigger responsibilities. And while winter isn't very severe in most parts of our state, proper residential outdoor care is still essential for helping keep your yard looking lush and verdant. So, why take on that huge responsibility yourself, when professional providers are willing to help maintain your outdoor space?  Most Southeast Texas residents don't, and neither should you. It's time to consider expert lawn and landscaping services from One Source.
We're here to provide top services and ensure that your lawn looks amazing year-round, and especially during the Fall and Winter months. Below, we've provided information on the top 5 maintenance and landscaping services that we provide for all our clients. This way, they can be free to simply enjoy their outdoor oasis during the Holidays.
Landscaping Services Can Bring Seasonal Color to Your Outdoors
Perhaps one of the most beneficial and exciting aspects of hiring a professional landscaping service is having a gorgeous outdoor oasis. Experienced providers can help you design a plan and layout for your dream yard. With colorful seasonal brushes, shrubs, and foliage added to your yard, you'll become the envy of your neighbors. Providers like One Source offer clients options that best meet their outdoor needs for Fall and Winter Holidays and festivities.
Clearing Fall Foliage & Debris
However, before we bring on the outdoor beauty, there are lots of seasonal maintenance tasks that landscapers must perform. During the Fall and Winter months in Texas, debris will accumulate every day onto your lawn. Weekly hard windy thunderstorms, breezes, and serious cool fronts bring a heap of pine needles, leaves, and branches onto your yard. Expert landscaping services know it's essential to remove all leaves, twigs, and even weeds from your yard each week.
There are three main reasons why they routinely remove debris and Fall foliage from your yard:
Blocking Sunlight
Debris can smother your grass and inhibit its proper growth because the sun cannot reach the blades.
Landscaping Services Rid Your Yard of Outdoor Pests
Various pests will make their homes in debris to have a safe haven until the weather warms up again.  coming out when the weather begins to warm again.
Don't Forget the Gutters
Leaves and other waste also accumulate in your gutters, especially during the cooler months in Texas. Though this is not a task for landscaping services to perform weekly, you should have them address the issue at least 2-3 times annually. Debris in your gutters will wreak havoc on your roof and draining systems. No one wants a leaky roof or flooding near their home as both will cause more costly issues.
Fall Fertilization and Overseeding
Did you know that applying fertilizer during the late fall is crucial in preventing the emergence of weeds when Springtime comes? Aside from keeping weeds under control, as well as providing food and insulation for your plants, fertilization also helps protect against erosion.
Landscapers will apply hearty fertilizers to help the soil maintain moisture when the weather is cold and dry. Also, overseeding with winter or annual ryegrass provides a nice green-looking lawn in the winter. Additionally, it will provide nourishment for your blades and soil all winter long. This is essential as many times in Texas we'll experience a hard winter freeze. Yet, by Spring, your lawn and landscape will be healthy and green.
You'll Need Landscaping Services for Pruning & Trimming
To ensure the healthy growth of your hedges and shrubs come spring, providers will give them a proper pruning. They'll also trim certain trees and large bushes upon request, or recommend this service if the foliage becomes hazardous. Overhanging tree limbs pose a safety risk and can even damage power lines or your home's roof. Moreover, especially for these tasks, it's always best to hire professionals rather than risking your safety to do it yourself.
Landscape Lighting & Lawn Prepping
Another aspect of having a professional provider is having someone to install outdoor lighting. There is nothing more beautiful and tranquil than enjoying your private outdoors when it's accompanied by gorgeous night lighting. During the Fall season, days grow shorter and night comes faster. So, you'll also want landscape lighting to help safely light up your front and back yard.
Furthermore, hard surfaces like your patios, walkways, and decks are vulnerable to damage from winter frost. Providers can offer advice on how to keep these areas free from pooling water and debris this Fall and Winter.
Would you like more information on Fall and Winter landscaping services? If you live in the SE and SW Montgomery County areas, connect with One Source Residential Services online today. And for immediate assistance, call us at 281-363-4663.